Attorney Michael Forbes
Voted as One of Pennsylvania's Top Lawyers
Host of radio show Consumer Defense Line heard on WCHE 1520 a.m. radio. Call in with your legal questions at (610) 991-3321!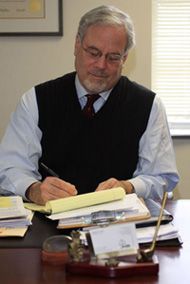 Mr. Forbes has always been driven by the desire to help others. With that in mind he began his law career representing indigent families in the Philadelphia family law system for seven years.
Moving toward the suburban areas, Mr. Forbes broadened his practice to include Chester, Montgomery and Bucks Counties. As he continued to handle family law matters, he witnessed first-hand how badly his client's credit reports were causing them to suffer serious declines in their lifestyles. Attorney Forbes' goal, is to reach as many people as possible to let them know that they do have some good options to combat collection agency bullies and can correct inaccuracies to save their homes from foreclosure.
Get started on your case today, contact us!
The ability to file bankruptcies and defend foreclosure actions on behalf of his clients became a crucial aspect of his practice. His clients were hurting and felt helpless. Attorney Forbes quickly learned that he was successful in helping his clients regain control of their finances and renew their self-respect. This fueled his passion for consumer law. Not only was he impacting the lives of so many, he found a deep satisfaction in putting these bullies in their place.
Education
Bachelors in Business Administration- University of Pennsylvania, Wharton School of Business

Graduated with Honors- 1984

Widener School of Law- 1989
Awards
"Top Lawyer" award by Main Line Today Magazine
Speaking Engagements
Main Line Weichert Realtors
Widener University School of Law, Consumer Law Clinic
Cape Institute Continuing Legal Education Course
Memberships
Pennsylvania Bar Association
American Bar Association
National Association of Consumer Advocates
National Consumer Law Center
Currently blogging for Lexis Nexis
Contributor to CBS Philly News
The Law Office of Michael P. Forbes, PC Is a Family Affair
Mr. Forbes has teamed-up with his wife, Nancy Forbes, who is his right-hand person and practice director. She is usually the one who clients have their first contact with, just because she will most likely be the one to answer the phone.
Nancy shares her commitment to their clients as her husband does and wants them to feel like they have a "safe haven" and that they have entered the "no judgment zone" when working with their office. The Forbes's have been married for more than 25 years and live in Chester County with two of their younger children, as their older children have grown and left the nest. They also have a very large dog who might get mad if not mentioned, so there ya go!